Best Ranked Brainstorming Software
Brainstorm Lite
is very restrictive brainstorming application that forces you to follow some core brainstorming rules thus achieving better results in less time.
The software tracks brainstorming time and prohibits the user from entering new ideas after the time is up. This is used to inspire creativity because everyone knows how much time is left to generate new ideas and that there remains no extra time.
Since suspending from judgments is the key to success of your brainstorming session, the Brainstorm Lite prevents deleting or even editing any ideas while session is going. This allows even the random ideas pass to analysis stage at which they often appear to be the best. However once the session is finished, the application transforms into simple text editor, meant for spellchecking or simple editing.
Brainstorm Lite is compatible with most of mind mapping or outlining software via OPML format. Also it allows saving the results in TXT and RTF to work over them in text editor.
http://conceptdraw.com/labs/index.php/2007/03/22/brainstorm-lite-is-released/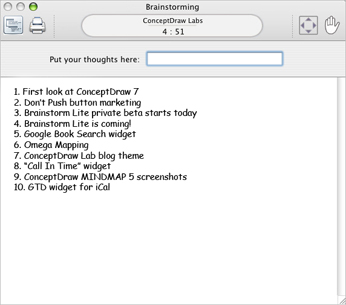 ThoughtOffice
is a new breed of brainstorming and productivity software. Pulling together 200 geniuses in 16 fields. Harnessing the creative power of 7,300,000 words, phrases, images, quotes, definitions, lyrics Growing at more than 12,000 new, fresh elements per week. Zoom from creativity to productivity seamlessly. Create, brand, copyright and hand-off your ideas all within ThoughtOffice.
ThoughtOffice Software
• Fast innovations.
• Powerful brainstorming.
• Beautiful presentations.
• Effective translation of ideas to products.
ThoughtOffice Innovation Solutions make crossing the chasm easy.
Simply enter a word or phrase and explore over 7,300,000 results.
Instantly tap the minds of PhD's, MBA's and Domain Experts with eXpertTopic Modules, drilling-down on any subject, problem or creative.
Bring it all together and present with your logo, name, copyright and brand intact. Find your best solution below as a prepackaged "bundle" of ThoughtOffice Software and various Topic Modules. Or build your own with ThoughtOffice and any collection of Topic Modules.
http://www.thoughtoffice.com/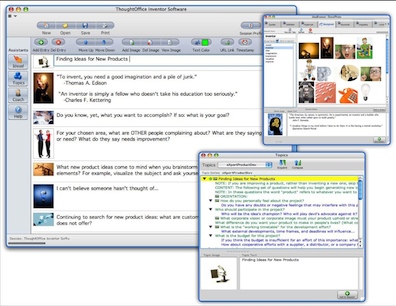 Curio
is the premier brainstorming and project management application designed to promote visual thinking.
Using Curio's innovative freeform interface and tools, you can intuitively gather, associate, and recall your ideas, while easily managing all the notes and documents associated with your project.
The heart of Curio is the idea space. Think of idea spaces as your whiteboard, notebook, and sketchpad — all wrapped up into one.
Within a Curio project, you can create an unlimited number of idea spaces where you can place anything anywhere on the page. Brainstorm or organize your notes with freeform collages of text, images, URLs, documents, Mail messages, movies, and sounds. Give the idea space a note paper or graph paper style, or perhaps a linen paper texture. This is your idea space, with your notes and ideas. Make it the way you want it to look.
http://www.zengobi.com/products/curio/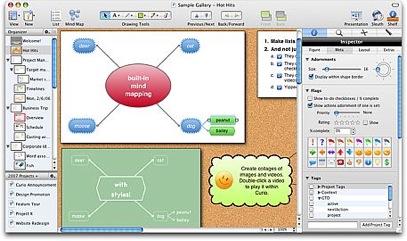 Incubator
is the successor to Pyramid... Organize your ideas using a tool that complements the way you think. Drag in text and images from Safari, Word, the Desktop and most other OS X applications. Place them anywhere on multiple worksheets within a single document.
Use the content you've gathered to build elaborate visual hierarchies. Add annotation. Link to external web pages and desktop documents. Easily mastered, surprisingly powerful.
http://www.mindcad.com/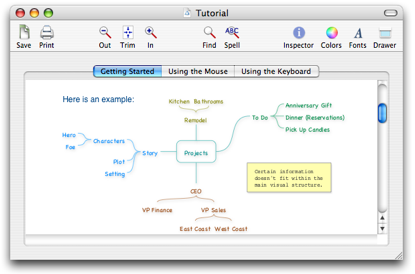 To-Do Stickies
... Don't get stuck spinning your wheels while working on projects and brainstorming new ideas. To-Do Stickies is a tool specially designed to help you plan projects, brainstorm, quickly jot down notes, organize them by topics, and track progress by checking off completed tasks. With To-Do Stickies you can be more organized and productive. Never lose those flashes of inspiration.
http://homepage.mac.com/crystalballmac/todostickies/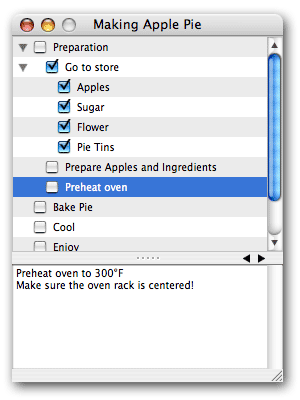 Ulysses
is a unique Mac OS X text editing environment aimed directly at creative writers.
With its innovative "tabbed" single-window interface, featuring integrated notepads, a documents browser, advanced search/filter capabilities and multi-document previews, Ulysses aims to give creative writers, novelists and storytellers the best writing experience available on any platform today.
Ulysses lets the writer focus entirely on content while aiding him in organizing the multiple parts of his work without forcing him into any pre-defined structure whatsoever. Developed exclusively for creative writers, Ulysses lacks both the functional overload of traditional word processors and the developers-oriented approach of classic text editors.
Additionally, Ulysses sports an extensible, plug-ins based export feature which enables the user to export his project into various formats such as "Plaintext", "RTF" and "LaTeX".
http://www.blue-tec.com/ulysses/evolution/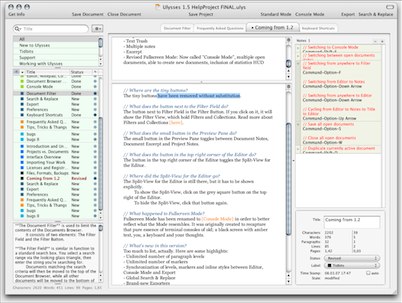 MindManager
. Think, plan and work more efficiently with Mindjet MindManager 7. Our solution is the market leader that empowers you to capture and organize your ideas and information at blazing speeds before turning them into plans for action, all with a Mac-friendly interface.
MindManager software...
Enhances quality of your creative and strategic thinking
Helps you establish processes and meet project deadlines
Boosts individual and team productivity
With MindManager's unique mapping software, you'll be able to develop ideas, understand complex issues and relationships, and identify next steps in record time.
Ideas generated in planning and brainstorming sessions, meetings, and classrooms can be quickly be enhanced with graphics, related documents, and links from the Internet. You can also share your ideas with multiple export options.
http://www.mindjet.com/us/products/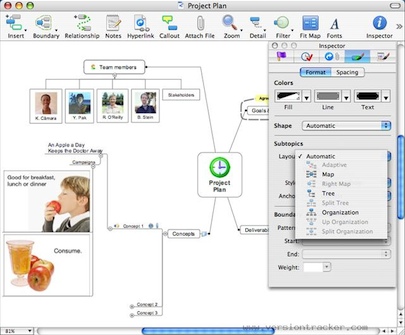 eXpertSystem
and its built-in eXpertLingo associative thinking tool, are completely integrated innovation tools that work together in perfect harmony; one the creative wild-child, the other the fast, friendly collector and assembler of the creative process.
Together they effortlessly tap a unique database of 144,000+ words, phrases and colloquialisms and marry them to an easy to use interface for exploring and collecting your thoughts without getting in the way of your creative process. In addition, we've also piped in a 250,000+ image database to give you keyword-empowered pictures to add dynamic inspiration to any creative process. Finally, we've tapped dozens of "thought leaders" in over 100 areas of specialty to add their seasoned thinking processes to eXpertSystem. The result is a combination freeform creativity tool and a linear processing product, as well as a presentation and sharing tool that helps tie your name and brand to your innovations. With eXpertSystem, no one will ever say, "they stole my idea."
http://store.richcontent.com/exv7.html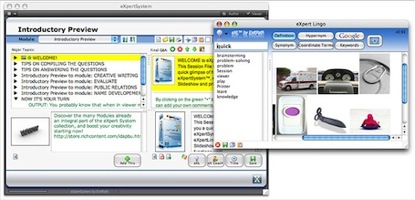 SmartDraw
. From planning through presentation and reporting, SmartDraw lets you create, modify and style your mind maps (or concept maps) plus a host of other business graphics in minutes.
SmartDraw's innovative SmartTemplates™ technology makes you instantly productive. Simply choose a template and customize to fit your needs. The intuitive interface allows you to focus on your goals, not learning new software.
http://www.smartdraw.com/exp/mim/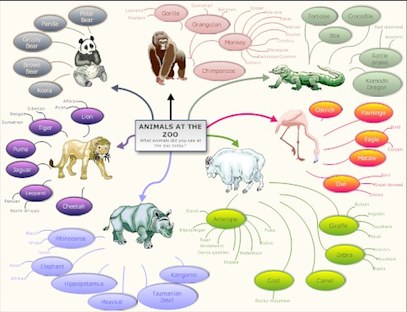 ParaMind Brainstorming Software
creates in seconds thousands of idea combinations that are directly related to the idea that you type on to its screen. ParaMind is the only brainstorming software program built on a theory advanced enough that you can use it to easily brainstorm for all purposes. It works on subjects from creative writing to law to marketing and even scientific inventions. The process is simple and easy to use.
ParaMind Brainstorming Software offers you an instant way to generate new ideas. Other brainstorming programs require a steep learning curve, or are merely sophisticated flow charts. Some programs give you an endless list of questions that you have to answer, making you do all the work, or give you synonyms or common associations like a thesaurus. Many of the expensive brainstorming programs are simply combinations of all these ideas in one program. ParaMind Brainstorming Software gives you all these exact results because you brainstorm based on your sentence which conceptualizes the area you want to brainstorm on.
http://www.paramind.net/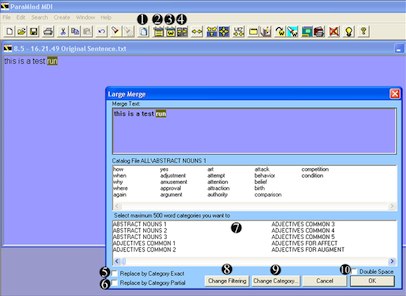 Brainstorming Toolbox
is the latest software to make your brainstorming sessions quicker, better and more interesting. By having Brainstorming Toolbox on your computer you will have the best and most interactive creative prompts at your fingertips. Spark off your ideas at the touch of a button. And you can even brainstorm by yourself with this great tool. This software sparks off real ideas and solutions for new products, processes and solutions. It is like brainstorming with people who never run out of ideas and are always sparking off new ideas.
http://www.brainstorming.co.uk
Aibase
allows you to create and structure information for learning, brainstorming, task solving, and project management. You can break down complex information for better understanding, and create efficient knowledge bases. Documents contain trees, tables, panels (with calendar interval), free-form shapes, rulers, slide shows, connectors, and second-view notes; trees can include images, tables, panels and automatic numbering; text can embed equations (MS Equation Editor or MathType required). Save time by fast navigation, many single-key operations, automatic document creation, and customizable categories and buttons for colors and symbols. Copy numbered outlines, tables, and equations to MS Word. Export of HTML and SVG (Scalable Vector Graphics). Import of SVG.
http://www.aibase-cs.com/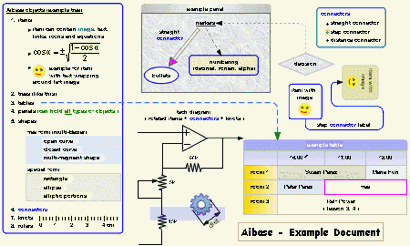 ---
Mind Mapping Software like NovaMind, MindManager or Visual Map can be very good tools for brainstorming. Visit
Mind Mapping Software
Site.