MindMapping Software
NovaMind
Produce unique, information rich, vivid solutions for enhanced creative thinking and compelling
presentations
.
Recent research has shown that NovaMind will improve your clarity of thinking, help you manage information overload, is likely to improve your productivity by 20% or more, and will help you to be better organized and communicate better.
Smooth curves and colorful pictures create powerful images for your brain to remember. Branches can be contoured to your liking for a Mind Map that will reflect your own distinct style. Our unique Branch Proposal System suggests new ideas and new directions for your thoughts.
The information stored in your mind map is compact and meaningful, allowing you to see the important issues, organize your thoughts, and solve problems quickly and effortlessly. The solutions are new and effective, and can easily be presented to others using graphical or text representations. NovaMind Mind Map Software makes MindMapping intuitive and fun.
Who else is using NovaMind?
Large companies, such as 3M, BBC Worldwide, Cisco Systems, Daimler Chrysler, Oracle, Nippon Cargo, BASF AG.
Government agencies, such as the Council of the European Union, NASA, US Army and Air Force.
Other companies - thousands of small companies from sole traders up to hundreds of staff.
Universities, such as Oxford, Yale, Carnegie Mellon, Cornell, Duke, Edinburgh, Utrecht, Koln, Brunei Darussalam, Auckland, Tokyo, Tromso, Vienna, Zurich.
Other educational institutions, such as Montessori Schools, Beverley School for Autism, California Maritime Academy, Center for Attention and Learning, Iceland Academy of the Arts, Branch Elementary.
Churches and religious organizations, such as Believers Church, Bethany Friends Church, 21st Century church of God.
Screenwriters, such as Pixar Animation Studios, Deep Fried Films, Hamburg Media School, Mascot Pictures.
Individual users, thousands of individuals are using NovaMind for personal effectiveness in all areas of their lives.
NovaMind Standard

This is the premier Mind Mapping application available for both Windows and MacOS X. It has the full capabilities of NovaMind as shown throughout this web site, with the exception that the screenwriting capabilities are not enabled. This is the edition that is ideal for business use, teaching, learning, presentations, brainstorming, life planning etc. Note that the NovaMind download contains the full features of both the standard and screenwriter edition, but the screenwriter features are only unlocked if you purchase a screenwriter license.
NovaMind Screenwriter Edition

This unlocks the unique built-in screenwriting capabilities of NovaMind so you can writer the next blockbuster movie, or TV screenplay directly in NovaMind - available for both Windows and MacOS X. This edition contains all the features of the standard edition, plus has the screenwriting capabilities fully enabled. Note that the NovaMind download contains the full features of both the standard and screenwriter edition, but the screenwriter features are only unlocked if you purchase a screenwriter license.
Merlin Project Manager for Mac OS X

The best project management and risk management application available for MacOS X.
Teacher's Guide to Mind Mapping

Mind Mapping book by NovaMind founder and Mind Mapping expert, Gideon King. This book is designed for anyone who teaches, whether it be in primary, secondary, tertiary, church or other environment. Some of the material is specific to school and university application, but most has general applicability.
http://www.nova-mind.com/
Mac OS X & Windows
---
Visual Mind
Visual Mind is a
powerful tool
that will help you in your daily work, whether your purpose is business or personal related.
Through a mind friendly and simple to use interface, you can visualize your thinking and quickly arrange and organize your work, all to benefit you as well as people around you.
http://www.visual-mind.com
Windows version.
---
FreeMind - free mind mapping software
FreeMind is a premier free mind-mapping software written in Java. The recent development has hopefully turned it into high productivity tool. We are proud that the operation and navigation of FreeMind is faster than that of MindManager because of one-click "fold / unfold" and "follow link" operations.
So you want to write a completely new metaphysics? Why don't you use FreeMind? You have a tool at hand that remarkably resembles the tray slips of Robert Pirsig, described in his sequel to Zen and the Art of Motorcycle Maintenance called Lila. Do you want to refactor your essays in a similar way you would refactor software? Or do you want to keep personal knowledge base, which is easy to manage? Why don't you try FreeMind? Do you want to prioritize, know where you are, where you've been and where you are heading, as Stephen Covey would advise you? Have you tried FreeMind to keep track of all the things that are needed for that?
http://freemind.sourceforge.net/
Windows, Linux, Mac OX X and binaries for any operating system
---
MindMapper
MindMapper USA presents MindMapper, visual mind mapping software tool for visual thinking and writing. Priced for beginners, powered for professionals.
MindMapper is an effective and proven visual mind mapping software tool, for organizing thoughts and ideas visually, decision making, making presentations, planning, brainstorming, outlining ideas, note taking, and more. MindMapper, visual mind map software utility, is one of the easiest mind map software creativity tools to learn and use.
MindMapper, visual mind mapping software was specifically designed to be used by anyone from beginners to experts utilizing mind mapping techniques invented by Leonardo da Vinci and further developed by Tony Buzan mind map. Thick visual mind map software manuals are not necessary due to the MindMapper intuitive interface...
Mind Mapping concept was further developed by the Tony Buzan using a visual mind map process. Mindmapper is a powerful visual mind mapping software tool that allows you to make the best use of your brainpower. Mindmapper visual mind map software concept will harnesses the full range of your cortical skills, making you more productive, creative and organized graphically. Need to learn more about visual mind mapping software?
MindMapper visual mind mapping software allows everyone, to conduct true visual mind mapping techniques quickly and effortlessly. Think about this one, we think in random patterns of association. Unlike outlining methods taught many in high schools, our visual mind map software creativity tool doesn't constrain your creative inclinations by requiring you to think sequentially. MindMapper utilizes true visual mind mapping software tools following Tony Buzan mind map original concept allowing you to record random thoughts, outline ideas, brainstorm, add objects and sounds then later copy, cut, or drag into logical sequence.
A few example uses.
Studying
Teaching
Training
Note-taking
Brainstorming visually
Outlining ideas
Organize thoughts - ideas
Plan you're next project
Create a knowledge-base
Process/knowledge management
Project Management
Visual Thinking
Decision-making
Scheduling
Presentations for anyone to view
Collaborate with others visually
Develop creative thinking
And more..
Check out MindMapper visual mind mapping software examples submitted by others or, let us tell you more about MindMapper and how this deluxe visual mind mapping software tool can benefit you personally.
http://www.mindmapperusa.com/
Win 98, Windows, ME, NT, 2000 or XP and Internet Explorer 5.5 or higher.
---
MindManager
A compelling tool that gives individuals power over information and corporations the strength of its individuals. Easily integrate your MindManager maps with productivity, office and data applications. Simply insert hypertext links and images. Link any concept, information or visual to streamline the overload of information you manage and communicate day in and day out. MindManager® is the missing application that bridges the gap between ideas, innovation and execution.
With Mindjet MindManager® Pro 6, you will:
Improve Performance, Processes and Alignment
Quickly and Effectively Communicate Ideas and Information
Improve Collaboration
Capture, collaborate and communicate. MindManager® visual mapping makes it easy to capture and share your ideas, manage the flow of information and share your vision.
http://www.mindjet.com/
Mac OS X and Windows
---
Inspiration
Inspiration
® is the essential tool students rely on to plan, research and complete projects successfully. With the integrated Diagram and Outline Views, they create graphic organizers and expand topics into writing. This powerful combination encourages learning in multiple modes. As a result, students gain and retain a better understanding of concepts and demonstrate knowledge, improving their performance across the curriculum.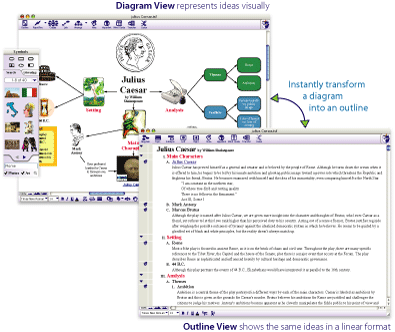 Improve 6th to 12th grade skills:
Plan and organize
Research and evaluate
Comprehend and communicate
Educators use Inspiration to customize instruction, achieve standards, assess student projects and energize learning. An expanded selection of 120+ cross-curricular templates in language arts, social studies, science, planning and thinking makes starting assignments quick and easy.
Visualize ideas
, concepts and relationships
In Diagram View, students create graphic organizers — a core element of visual learning — to analyze, compare and evaluate information. They quickly brainstorm new ideas with the RapidFire tool, search the symbol collection to find images to represent any concept, and insert and play multimedia files. To show relationships between ideas, students link symbols and add words to further clarify meaning.
Improve writing proficiency
As they start the writing process, students use visually integrated notes to expand topics and switch to Outline View to further develop their ideas. The integrated Word Guide helps students choose words with more precision, and a contextual spell checker automatically identifies misspelled words. To finalize projects, students can transfer to their favorite word processor or transform their work into a web site with the Site Skeleton export tool.
Plan and organize projects
Inspiration helps students organize information, develop thinking skills and demonstrate knowledge. Drag-and-drop actions and hyperlinks make it easy to gather research and connect to files and web resources. As students develop their projects, they use AutoArrange to automatically format their diagrams.
http://www.inspiration.com
Mac OS X, Windows, Palm OS, Pocket PC
---
Concept Draw MINDMAP
Product Overview

Use ConceptDraw MINDMAP 5 for creative thinking, planning, organization, problem solving, presentations, decision making, note taking, team brainstorming and other tasks. ConceptDraw MINDMAP 5 is designed for effective team and personal work in Business, Marketing, Advertising, Education, Home life.
ConceptDraw MINDMAP 5 is available in Personal and Professional editions. Personal version offers versatile mind mapping and drawing tools. Professional version supports extra file formats, multi-page documents. Also it has extending import/export capabilities.
The Professional version is recommended for professionals: project managers, team leaders or company executives, sales and marketing managers, designers, lecturers, etc. ConceptDraw MINDMAP 5 Professional supports a range of file formats and multi-page documents. It has extended import/export capabilities including integration with MS Project and, export to MS PowerPoint
The Personal edition offers versatile mind mapping and drawing tools and is meant for personal tasks like personal brainstorming, note taking, aiding memory or planning. ConceptDraw MINDMAP 5 Personal is a comprehensive tool for personal planning and organizing. It is very simple to use and intuitive at the same time due to using maps with a hand-drawn effect.
http://www.conceptdraw.com/en/products/mindmap
Windows, Mac OS X
---
3D TopicScape
3D Topicscape is a "let's get organized" assistant that helps with concept mapping and mindmapping in 3D on your computer.
3D Topicscape
: Introduction
Do you ever feel that your computer is getting out of hand? Are you suffering from information overload? Have you ever wanted to find a web page, a reference document, an email, a picture that you know you once had but can't track down?
3D Topicscape is a new type of computer software that can help you organize your work and find information held in computer files by showing it in a 3D landscape that reveals details and relationships with a new clarity. It is also a flexible way for you to sort out your thoughts and approach on a new project even before you have collected any files or information. Some will find it to be a valuable study tool as well.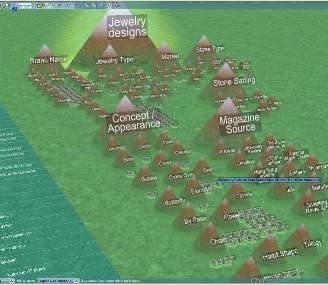 http://www.topicscape.com
Windows version
---
BrainMine
Capture, Expand, Communicate, Learn!
Neural Matters™ is proud to announce the release of BrainMine, a brand new Mind Mapping application for Microsoft Windows™. BrainMine helps you to visually capture or "brainstorm" information into a Mind Map™.
A Mind Map is a visual representation of information, which naturally prompts your brain to expand upon it. Mind Maps are used to communicate useful information between people efficiently, regardless of their prior level of knowledge on the subject.
BrainMine has been developed as a state-of-the-art, high quality, easy to use application. These characteristics and the Mind Map principles make BrainMine a highly efficient analysis and documentation tool, which is fantastic for learning and recall.
http://www.neuralmatters.com/
Windows
---
iMindMap
Tony Buzan's official Mind Mapping software product that allows you to create fully organic freehand drawn mind maps. A cross platform Java-based tool.
http://www.imindmap.com/
Mac OS X, Windows and Linux.
---
Comapping
Comapping makes collaboration easier...
Make mind maps together with your friends and colleagues - simply using your browser.
Instantly updated - collaborate in real-time
Web-based - no installation required and instant access anywhere
Easy mind mapping - a unique auto-layout technology optimizes use of the screen.
Some of us used to have large format plotters placed in strategic places around the world in order to be able to share mindmaps with subject matter experts or colleagues. The maps then had to be couriered back and forth and changes entered manually. This is now history. Comapping is releasing the full potential of mindmaps in collaborative environments.
http://comapping.com/
Web Browser
---
Mind Map from Nova Mind: